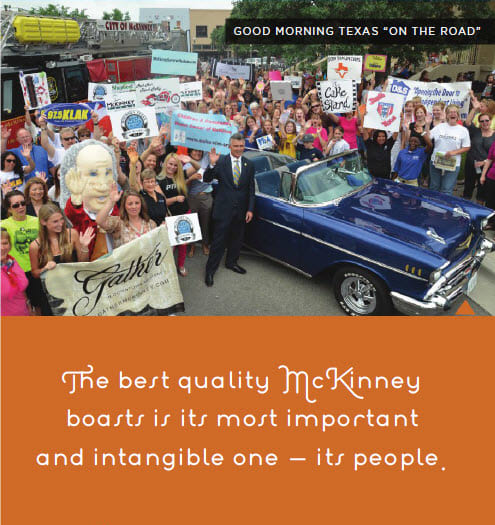 ​​​​​​​Children and education are high priorities among the qualifying factors that define quality of life. Families look for the best educational opportunities when choosing a hometown, and businesses want ahighly educated workforce as an employee base.
​​​​​​​
The McKinney Independent School District (MISD) is one of the fastest growing school districts in Texas over the last decade, with a current enrollment of more than 24,000 students in 20 elementary schools, five middle schools, three high schools, one alternative school and one early childhood education school.
​​​​​​​

The past year has been an exciting time of expansion and progress for McKinney ISD facilities. The bond program voters approved in 2011 is in full implementation and the package includes significant additions and renovations. Work will include replacing old roofs, upgrading the energy management system, upgrading fire and alarm systems, and installing security vestibules at a number of campuses.
​​​​​​​

Buying your new home through Jane Clark Realty can pull thousands of dollars back to your side of the negotiating table. You may think that buying without an agent will save you money. In truth you are leaving thousands of dollars on the closing room table and missing the services of a skilled, experienced and knowledable negotiator. Even better , our costs add nothing to the price of your new home, Call Jane Clark @ 214-802-4680 and put her to work for you.
​​​​​​​

The first major phase of renovations and additions at McKinney High School was completed in time for the beginning of the school year. The additions at that campus expand the school's capacity to 3,000 students, and the complete project is scheduled to wrap up in the last quarter of 2014 Faubion Middle School received a modern facelift over the summer. Other schools to be expanded include Reuben Johnson and Malvern Elementary Schools, Dowell Middle School and McKinney North High School.
​​​​​​​

Collin College provides another major educational resource for residents and businesses, offering students the opportunity to earn undergraduate, graduate and doctoral degrees in a range of academic and applied disciplines. Since 1985, Collin College has expanded to serve about 53,000 credit and continuing education students each year. As the only public college in Collin County, the college offers more than 100 degrees and certificates in a wide range of disciplines. Collin College was named a Finalist for the Presidential Award on the National Higher Education Community Service Roll. The Presidential Award is the highest honor a college or university can receive for its exemplary commitment to volunteering, service-learning and civic engagement. Collin College was one of only two community colleges recognized.
​​​​​​​

Collin College is laying the foundation to becoming a leading health science destination. It announced plans to open a three-story, 125,000-square-foot health science hub in 2015 at the Central Park campus in McKinney. The addition is part of Collin College's Vision 2016 strategic plan, which aims to improve academic success, provide access to innovative higher education programs, engage faculty, students and staff, and enhance the college's presence in the community.
​​​​​​​

With all there is to offer in McKinney – shaded lots to build a dream home, great schools and activities that bring residents together – it's no wonder people are so passionate about their hometown of McKinney, Texas. That is why you will find the your investment in McKinney Real Estate will be one of your best investments in your quality of life.